Back after a long break, was caught up with so much work, but I kept my eyes on the cars! :D
Anyway, one thing caught a major part of my attention. PEOPLE HATE SEBASTIAN VETTEL. So, I am not a part of his PR group, nor am I saying that I am the head of Seb's Fan Club, but I am proud to say that he is my idol! Ayrton Senna, Michael Schumacher, Kimi Raikkonen, Sebastian Vettel.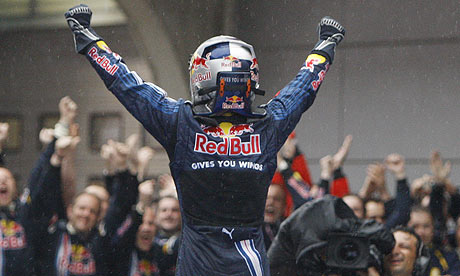 On a Facebook page, I noted down a few reasons why Vettel is such a hated personality, and I will try to sum it all up. I am not trying to change the opinion of anyone, I hate Brinjals, and no one can change my opinion on that! :P
REASON 1- VETTEL DISOBEYED TEAM ORDERS AT THE MALAYSIAN GP
So reason one to hate the TRIPLE WORLD CHAMPION (four time, just a matter of time) is that he wanted to overtake his teammate Mark Webber, when the team told him not to. So we see Formula 1 because we want to see a fast driver not overtake a slower one? Maybe we should switch to some other sport then. At the time of overtaking, Vettel was clocking fastest lap times and Webber was fresh out of the pits. I don't disrespect Webber, but even after Seb overtook him, he had fresher tires, he could have gone for the overtake again. Also, let me remind you all "oh I know all about F1" people, 2011, British GP, Silverstone. Webber ignored the team orders too. Lets make a Mark Webber Hate club?
REASON 2- VETTEL WINS BECAUSE HE HAS THE FASTEST CAR
Right, so Seb's got the fastest car on the grid, thanks to Adrian Newey! Let me remind you, Seb is in a team that makes Energy drink and is powered by an engine made by Renault, and they have no Supercars out there. On the other hand, Formula 1 is the pinnacle of Automotive technology (apart from the rubbish Pirelli rubber) and if established manufacturers such as Ferrari, Mercedes and McLaren can't produce a car as fast as the Red Bull, its their fault. Also, Mark Webber is also in the same car, although he runs different strategies like a different rear wing etc, but we don't see Webber winning races, do we? On the other hand, having the fastest car doesn't always make you a triple world champion. Remember Seb's first win at Monza? 2008, conditions were wet and he was a rookie. He drove a Ferrari powered Toro Rosso to the Pole and then to Victory. What? Not a Red Bull? Well, YES!
REASON 3- HE HAS MADE FORMULA 1 BORING
Last time I read about Formula 1, it wasn't an Entertainment sport. Maybe people have got it wrong. Seb is just doing his job, nothing else. He is a reacing driver, and he has to come first. Ayrton Senna, the greatest F1 driver said that ONLY FIRST POSITION IS A POSITION, REST ARE NOTHING. Also, if you want entertainment in F1, I don't know what channel you watch but Star Sports 2 and ESPN HD show battles for 4th, 7th, 10th, and they are awesome. driver's getting side by side, overtaking brilliance and what not! I hope that is clear too?
REASON 4- SEB'S BEATING ALL THE PREVIOUS FAVORITES
No answer there. He beats Lewis Hamilton, and i respect Hamilton a lot, and I have found new budding admiration for Fernando Alonso's driving style, but I accept the Greatness of the German, because he is beating them all for the past 4 years, and also in 2009, came really close to beating them.
My aim wasn't to criticize anyone. People follow one sportsman, I respect their decision. But hating someone who is driving in a sport that is physically so demanding, Mentally so challenging, I pity you.
I dare all the HATERS, take your car, shell out 4000 bucks and drive at the BIC for an hour. Maintain the Racing line, drive flat-out and then when you get out of your car after an hour, if you say what Seb does, what Hamilton does, Raikkonen, Alonso, Massa etc are doing a simple job, I will agree to what you say!
PEACE OUT!